Summary of tours
---
Kraków - Wieliczka Salt Mine Tour - Join our full day tour taking in some of Poland's greatest attractions. World Heritage Sites, fascinating history, impressive architecture and amazing salt works, it's all there. We visit Kraków, a former royal capital of Poland and one of Europe's cultural treasure troves with so many historical buildings, monuments and artworks. Complete your day with an unforgettable tour of the world's oldest Wieliczka Salt Mine offering visitors a fascinating pilgrimage into the past to see galleries with works of art, underground chapels and statues sculpted in the salt. This tour can be combined with a visit to Auschwitz-Birkenau Museum (conditions apply).
John Paul II's Footsteps Tour - a full day tour focusing on the places related to the life of the Polish Pope. Highly recommended if you want to learn more facts of John Paul's life and visit some important catholic sites.
Częstochowa Monastery Tour - Visit world famous Monastery of Jasna Góra, one of the most important catholic pilgrimage sites in Europe. Take an opportunity to see the miraculous painting of the Black Madonna and the national shrine of Poland with excellent collections of artefacts documenting Poland's troubled political and cultural history over centuries.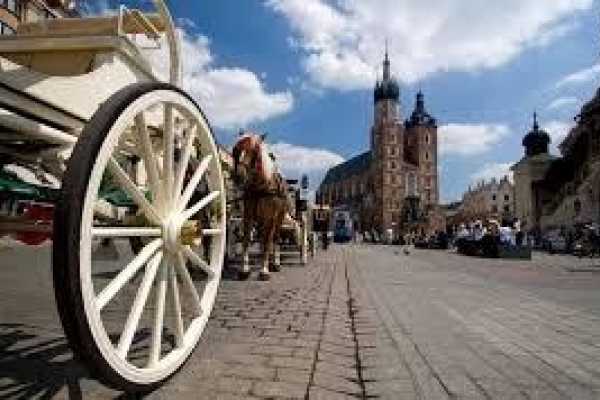 A visit to Kraków is a journey into Poland's past. As the royal capital for 500 years, the city was able to absorb much history and talent over the centuries and is today one of Europe's cultural treasure troves. As a result, no other city in Poland can boast so many historic buildings and monuments or such a vast collection of artworks. Upon arrival in Kraków embark on a fascinating guided walking tour around the city's landmarks. Your knowledgeable local guide recounts Kraków's rich history and brings you close to its famous art and architecture. Wawel Castle is the must-see centrepiece as the historic seat of Polish kings and the country's symbol and pride. Visitors to Kraków also find themselves drawn to the Old Town with its soaring Gothic churches and the gargantuan Market Square, the largest in Poland. Just outside the Old Town lies the former Jewish quarter Kazimierz with its silent synagogues reflecting the tragedy of the recent past. Kraków's difficult history in World War II is exhibited in the factory where Oskar Schindler employed and, as a result, saved many Jewish prisoners. Today it houses a fascinating museum dedicated to the Nazi occupation of Poland and daily life in the ghetto. Complete your day with an unforgettable visit to world-famous Wieliczka Salt Mine situated a short distance from Kraków. This amazing world of pits and tunnels hewn from solid salt contains a chapel decorated with salt chandeliers and altarpieces. Visit Kraków or Wieliczka Salt Mine and Auschwitz-Birkenau in one day. Ask for more details here AVAILIBILITY: Our tours are usually available daily throughout a year except some public holidays. Reservation is required. DURATION: 14-15 hours (subject to weather and road conditions) DEPARTURE TIME: Set between 7am and 9am (depending on the time of year) DEPARTURE PLACE: We offer a convenient hotel/residence pick-up. Please forward details of your accommodation when making a booking. PRICE: Includes transport, English speaking driver-guide service, local guides (3-hour walking tour of Krakow), entrance fees (Wieliczka Salt Mine), refreshments, accident insurance. Discounts apply to students (valid student card required) and groups of minimum 4 people. TOUR PRICE (per person) EUR PLN Normal 130 560 Discount 100 430 PLEASE NOTE: In case the total number of tour participants does not exceed two the minimum tour fee of 300 EUR (1290 zloty) applies. BOOKING: Please contact us before making a booking to check availibility. In order to speed up the booking procedure please provide your name, date(s) of the tour, number of people and accommodation details in Wroclaw. Only confirmed reservations are valid. PAYMENT METHODS: Credit cards - accepted only when purchasing tour vouchers available online through the shopping cart on our website. This type of payment is required prior to the tour date. Cash - accepted on the tour date and collected by our guide. No pre-payment required.